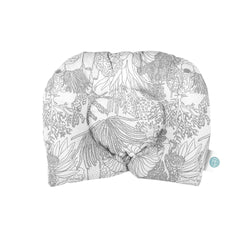 TULO BABY
SMOKY GREY CORAL NESTO PAD U-SHAPED PILLOW
DESCRIPTION
We understand the first few months of a baby's life help to lay the foundation for sleep and wellness. Tulo Baby products deliver just what you need to create a safe, comfortable and subtle nursery environment, giving you fewer reasons to worry and more time for you to focus on bonding with your baby, hence the Nesto Pad comes with all necessary accessories. The head U-shaped head pillow naturally becomes very useful when you use the Nesto Pad for co-sleeping with your baby.
WHY U-SHAPED?
Babies need proper support on their head and neck when they sleep to avoid conditions like flattening of head. Our U Pillow is one of the sleep essentials for your baby's sound sleep and round head. This baby pillow offers great support to your little one's head and neck, preventing your baby from sleeping in awkward positions. Place this pillow below your baby's head, so that it remains in the right position.

FEATURES
• Ergonomically designed to make sure that the tiny tot's neck is not strained
• It lightweight and easy to carry 
• Super Soft, Antimicrobial and Hypoallergenic Filling 
• Helps to avoid conditions like flattening of head
• It is breathable
• Easy to wash
MATERIAL
OUTER SHELL: 100% ORGANIC COTTON
FILLING : 100% HYPO-ALLERGENIC 200GSM POLYFILL
WASH AND CARE
Gentle cycle 30º max, do not bleach, do not soak, do not scrub, tumble dry low, do not iron.
Made in India with care - Fabrics dyed and printed in India.
SHIPPING AND RETURN
Tulo Baby ships to all over India. We use 3rd party shipping service providers. The risks related to the delivery of your order is borne by the shipping providers and shall be subjected to the terms and conditions of the individual shipping provider. Return of a NESTO PAD AND ITS ACCESSORIES is only accepted if the product is damaged, we advice you to check the size in advance as return/refund of a Nesto Pad and the accessories, due to size is not accepted, although we accept exchange of sizes.
We do not accept the return/refund of a NESTO PAD AND ITS ACCESSORIES for any other reasons. Once the payment is confirmed by our accounting department, the delivery takes approximately 5 to 7 working days. If you have any further questions please get in touch with by dropping in a mail at contact@tulobaby.com
All of our items are designed and handmade with care and love in India. Made by hand, slight variations are natural and part of the charm!